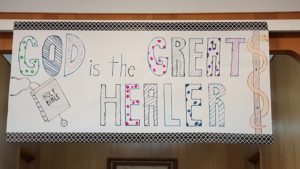 This past weekend we thoroughly enjoyed our Sunday School Program with guest speaker Scott Kember of Sarnia, Ontario, Canada. The Sunday School Students took the stage by class, and recited Bible verses and poems telling us about God the Great Healer. We learn in the Bible that sin is like a disease that will cause death, and separates us now, and for eternity, from God. But God has sent His Son, the Lord Jesus Christ, to pay the punishment for our sin, and bring us to God. Healed from sin, what better news could there be!
For the wages of sin is death, but the free gift of God is eternal life in Christ Jesus our Lord.
Believe in the Lord Jesus, and you will be saved
---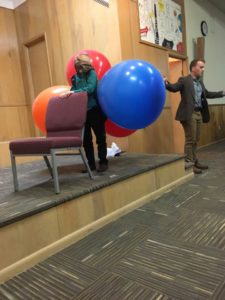 Scott then gave an "inflated" message about what keeps us from salvation. The Bible teaches us that the Lord Jesus Christ is the DOOR to Heaven. But we also know that sin, wrong priorities, friends, etc. can keep us from entering that door.  Are YOU saved? If not, what is keeping YOU from entering the DOOR?
I am the door. If anyone enters by me, he will be saved…
Sunday School continues each Sunday 11:45am-12:45pm. We would love to have your child join us (children under 5 must have a parent with them). Parents, you are welcome to join your children to see what and how we teach, or join the adult Bible class upstairs.