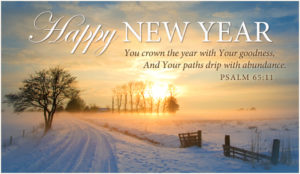 Happy New Year! And what better way to start the New Year than considering your soul's eternal destiny. Here is one story…
"This is a privilege to tell how God saved my soul from a lost eternity."
I was born on a large farm in Ontario, Canada.  I am the oldest of seven children and raised with God fearing parents.  The word of God, the Bible, was read every morning in our home, along with my father's prayers (this was after breakfast, before going to school).
We attended Sunday School and Gospel Meetings every Sunday, plus many times during my growing years, with several weeks of special services with preachers of the gospel, warning sinners of their need to be 'born again' to enter into Heaven.
The year 1947, in July, being nearly 14 years of age, a gospel preacher came our little church called the in Ontario to have gospel meetings.  My sister, next to me was saved the second week, which really shook me.  Several were trusting Christ as their Saviour and I was putting it off.
After nine weeks, on a Friday night, September 12th, a cousin spoke to me with great concern, "are you not going to get saved?.  Men were on their knees after the meeting praying for we lost ones.  I spoke to the preacher after the prayer meetings.  He read several verses reminding me of my sinful nature, it seemed to no avail.  Then, he said to me "who is a sinner?"  I said: "me".  Right then, I saw 'me, the sinner for whom Christ died'.  Such a happy moment with relief realizing I was not going to Hell, but Heaven!  Oh, happy day!  That happened over 60 years ago, and the Lord has been my guide ALL these years, and I have that blessed hope, looking forward to seeing my precious Saviour's face.  'Face to face I shall behold Him'.
Life is short – ETERNITY is forever – Heaven or Hell which? The gospel deals with solemn issues:  Sin and Salvation, Heaven and Hell, Life and Death. A sinner saved for eternity!!!