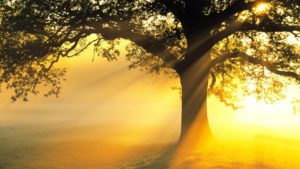 I was raised by a saved mother and an unsaved father.  My father was a drunkard and made life miserable for my sister, my mother and I.  My mother was faithful, always being sure to be respectful to her husband, while making sure my sister and I were taught the scriptures from a very early age, and attending all the meetings of the Jackson Assembly of Christians.  My mother never missed a meeting, even when she was diagnosed with incurable stomach cancer.  She was faithful to the end and an amazing testimony to everyone around her, a godly woman.  My father continued on in his sins and died 11 years after my mother.  A dear friend poured scriptures into his ear as he lay dying, so we are hopeful that he accepted Christ as his Savior, and that we'll see my dad in Heaven.
I was saved in the summer of 1954.  Almost all of my friends from Sunday school were saved earlier that year.  I was one of the only two left in our Sunday school class still lost in our sins!  We sat through series after series of meetings.  I can remember being terrified that the Lord would come and leave me behind.  I used to get up in the night and make sure my mom was still there – I'd listen for her breathing.  If she was there, I knew I was safe so far.
I remember attending tent meetings on Donelly Road and listening outside the tent as brethren would pray for me by name. One who prayed so fervently for me is now my brother in law. He was so burdened about my salvation, you could hear his voice shaking as he prayed for me. The preachers visited regularly and on this August day that I was saved, I had all but given up. I couldn't believe enough, I couldn't figure out what more I could do, I knew God wanted to save me but there was something in the way. I had also found out that the other Sunday School student had professed salvation the night before. This really shook me up! I was 14 years old and not very lady-like, so up I went in that tree to think. I kept going over Isaiah 53:5-6 and I Peter 3:18. I finally understood that I had gone astray and turned to my own way, but that Christ had 'once suffered" for sins, the just (Him) for me the (unjust). I wondered if it could really be that simple. Right about that time, I looked up and saw the preachers pulling into our driveway for another visit. I remember sliding out of the tree and running to them shouting "I'm saved, I'm finally saved". They wanted to know how I knew and I quoted both scriptures to them.  They didn't stop smiling and neither did I.  Now, I could sleep through the night and not worry about the Lord's coming and leaving me behind.
Praise the Lord – I'm saved, I'm saved!!