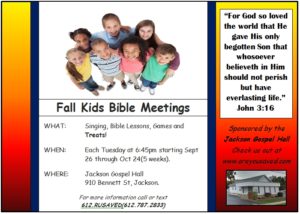 Starting this Tuesday for 5 Tuesdays – Kids Fall Bible Classes
Singing, Bible Lessons, Review Games and of course, a treat!
Each Tuesday at 6:45pm Sep. 26 through October 24th at the Jackson Gospel Hall, 910 Bennett St.
Contact Us for more information, or a ride. We can pick up children 6 years old and older. Younger than six, please attend with your child.
"Now they were bringing even infants to him that he might touch them. And when the disciples saw it, they rebuked them. But Jesus called them to him, saying, "Let the children come to me, and do not hinder them, for to such belongs the kingdom of God. Truly, I say to you, whoever does not receive the kingdom of God like a child shall not enter it." Luke 18:15-17, The Bible