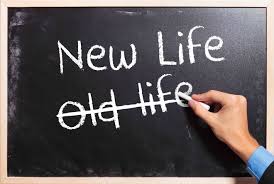 If there was one word that I would use to describe the very beginning of my life, it would be privileged.  I was born in 1973 and as a result of my parents' being born again Christians and part of the local assembly that gathers to the name of the LORD Jesus Christ in Jackson MI, I had the privilege of learning the Bible and the message of the gospel from my youngest years.  I was taught at home and in Sunday school that I was a sinner and that I couldn't live up to God's standards.    I knew that the Bible says that we must repent and be saved in order to be in heaven.    Most importantly, I learned about the Lord Jesus Christ and his love and longing to save lost sinners.
Thankfully, I can also say that, through the working of the Holy Spirit in my life, I had a desire to be saved.   The first time that I remember really wanting to be saved from my sin and know true peace was when my cousin, who was a couple of years older than me, was saved.   I would have been only 4 or 5 years old, but I remember this speaking to me loudly as to my need of God's Salvation.
Another one of the things that spoke to me when I was a child was the coming of the Lord.   I had been taught the truth that is in the Word of God that there is coming a time when the Lord Jesus is going to return to this earth and take back to Heaven all those that have trusted Him as their personal Savior.  I knew that if the Lord Jesus were to return to this earth before I was saved, that I would be left behind to know only despair and punishment from God.  Unfortunately, although I knew my need and knew that there was ONE who could meet that need, I continued to put off the matter of my soul's salvation.  Proverbs 27:1 says:
"Boast not thyself of tomorrow, for thou knowest not what a day may bring forth" … yet I continued in my sin.
That brings me to New Year's Day, January first 1983.  The festivities of a busy holiday season were coming to an end, and as we prepared for bed, my Dad spoke these words to me, "Here it is another year, and you're not saved yet!"  Wow – those words were an arrow from God into my life.  I knew that I had been putting off getting saved.  I would be concerned after a gospel meeting, but then I would neglect God's offer of salvation (Hebrews 2:3).  Series of gospel meetings had come and gone, and I was still not saved.  I knew was delaying – one night, one week, one month – but now that procrastination had added up to an entire year.  And for a boy of nine years old, one year was a very long time.  God was working in my life and I began to think, "How long is God going to give me the chance to be saved?"  I knew that God's day of grace was going to end some day and would I put off getting saved until it was too late.  I asked for my parents to read me Bible verses and in particular, I can remember reading "For Christ also hast once suffered for sins the just for the unjust that he might bring us to God" (1 Peter 3:18) and also "All we like sheep have gone astray, we have turned everyone to his own way and the Lord hath laid on him the iniquities of us all."  (Isaiah 53:6).  My parents left my room and I remember lying there in bed.  It was dark outside and it was so dark inside my soul and mind.  I didn't understand it.  I couldn't figure it out.  In despair, I remember thinking to myself, "Because of my sin and the punishment that it deserves, God would be righteous in sending me to Hell."  And then, at that very instant, Romans chapter five and verse six came into my mind in this unique way:  "Christ died for me the ungodly one!"  In that moment of time, I realized that I was without strength, helpless and without hope.  I appreciated the fact that I was ungodly and that was who Christ died for – ME!  At first it seemed so simple, but I knew I was saved.  I ran to my parents room to tell them the news and there, the three of us bowed our knees around their bed and thanked God for his marvelous gift of salvation.
It was a great way to start the year, but better yet it's a great way to start a new life – alive in Christ (Ephesians 2:5).  I am thankful to say that I have peace with God.  I know for sure that I will not be punished for my sins.  And not only that, I know that I will be with HIM in Heaven for all eternity.  What a prospect!
J.W.