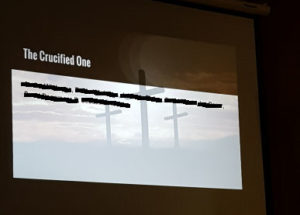 What did you do this past Saturday? If you weren't at the Annual Sunday School Program at the Jackson Gospel Hall, you missed a wonderful event!
Beginning at 5pm, the children of our Sunday School program took turns taking to the stage, and sharing with us the verses they had memorized in answer to this year's theme, Who Is Jesus?
He Is:  The Christ, The Chosen One, The Child Born, The Crucified One,
the Crowned King and the Coming Savior!
After the program finished, we enjoyed a pizza dinner, and then the students were presented with a reward for their attendance during the year.
"And He (Jesus) continued by questioning them, "But who do you say that I am?" Peter answered and said to Him, "You are the Christ." Mark 8: 39, The Bible
Who do you say that He is??